Welcome to Jeter Rehab Therapy

Jeter Rehab Therapy founded by Emily C. Jeter, is an owner operated practice dedicated to leveraging years of experience, uncompromising standards and a belief that giving back is essential in providing the best for patients to move forward in their recovery.
Our Leadership
Emily C. Jeter, OTR/L, MSPT, CHT is one of the leading Occupational/Physical Therapists in The District. She has been successfully providing rehabilitation for patients with a wide variety of traumatic injuries and chronic conditions for over 30 years. As a practitioner in occupational/physical therapy, Emily is board certified in hand and upper extremity rehab, Graston Soft Tissue Mobilization Technique and trigger point manual therapy.
Prior to establishing Jeter Rehab Therapy, Emily's career experience includes Director of Hand & Upper Extremity Rehab at the University of Virginia Medical Center, the program specialist for the National Rehabilitation Hospital Regional Rehab in the Washington DC Metro area, the Division Head for Hand and Upper Extremity Rehabilitation at Bethesda Naval Hospital, and Head of The Hand Rehab Clinic at the U.S. Naval base in Jacksonville, FL. She also was instrumental in establishing the U.S. Department of Defense's Performing Arts Rehab Clinic at Bethesda Naval Hospital.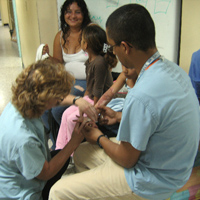 Throughout Emily's career, she has been an avid supporter and volunteer for various non-profit organizations, treating the under-privileged in such areas as Honduras, St. Lucia, Jerusalem and east Africa. Sensitivity and respect for cultural and social beliefs of others is a non-negotiable philosophy and a way of being that is entrenched in Emily's practice in the United States. Patients are treated in a unique environment to interact with other patients, a differentiation from other practices which enhances the optimum healing opportunity.

Prior to your first visit to Jeter Rehab Therapy, we will ask you to complete several forms. This is not just about making the process quicker once you are in the office, but it provides you the opportunity to understand the extent of your injury, your scope of payment requirements and your insurance's scope of payment contributions.
Upon arrival, you will be met by our Administrative Team. They will be able to assist you with any questions you may have regarding insurance, billing or scheduling.
Once in treatment, our approach to rehabilitation is simple. It involves an initial assessment of your injury through a one-on-one examination followed by dedicated treatment measuring your progression to restoration every visit. How we address your injury or needs will not be cookie cutter. To see what a blended approach to your healing might look at, please go to our "Services" tab for more information about techniques and staff skill sets.

An educated staff is empowered staff. Jeter Rehab Therapy's staff undergoes monthly calibration of knowledge, skills and abilities. As a past adjunct professor at Howard University for in-practice treatment modalities and as a past lecturer at the University of Maryland, Emily continues to utilize her adult learning approaches with her staff. In addition, the Practice supports and advocates on-going development through participation in certified classes, workshops and conferences.
Your satisfaction is what is most important to us. On a monthly basis, we provide our patients the chance to provide feedback on their administrative and treatment experience. Your feedback on your experience is critical to providing the best rehabilitation possible to all of our patients.