Services / Insurance
GRASTON TECHNIQUE®
Jeter Rehab Therapy offers both comprehensive and highly specialized techniques that set our Clinic and Therapists apart from most local practices.
Offering you a staff of Certified Occupational / Physical Therapists, Massage Therapist and Clinical Aide, we have a proven track record for our ability to assess, treat and restore our patients utilizing a combination of manual therapy and innovative treatments.
Our Graston Technique Certified staff uses specialized instruments that enhance their ability to detect facial adhesions and restrictions. This non-invasive technique has been clinically proven to achieve quicker and better outcomes in treating both acute and chronic conditions including:
Cervical sprain/strain
Plantar Fascilitis
Rotator Cuff Tendinitis
Fibromyalgia
Shin Splints

Lumbar sprain/strain
Tennis Elbow
Knee Disorders
Scar Tissue

Carpel Tunnel Syndrome

Golfers Elbow

Achilles Tendinitis

Trigger Finger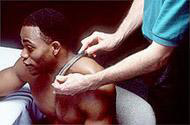 Patients being treated using the Graston Technique®
MODALITY / TECHNIQUES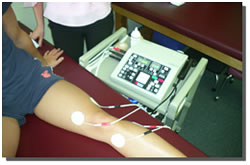 E-STIM – within the field of physical therapy, E-STIM is important for rehabilitative purposes and enhancement of the healing process. This modality induces muscle contractions that are stimulated by excitation produced directly at the motor nerve. In addition to activating the necessary muscle groups it will aid in controlling pain.

ULTRASOUND – Ultrasound is a deep heating modality that is most effective in heating tissues of deep joints. It assists in increasing blood flow and increasing soft tissue mobility.

 

OTHER MODALITIES/TECHNIQUES
- CUPPING
- COLD LASER
- PARAFFIN
- MOIST HEAT/ICE
- SPRT TAPING
- PRE/HEP
- ACUPRESSURE
- JOINT MOBILIZATON
- NEURAL MOBILIZATION
- STRAIN/COUNTER-STRAIN

ERGO-POSTURAL/OFFICE ASSESSMENTS
Eighty percent of all computer users experience some form of chronic fatigue, tension or pain, regardless of age. Jeter Rehab Therapy offers a range of in-office assessments to groups or individuals:


The General Office Assessment – provides specific feedback and recommendations regarding you office's greatest areas of opportunity for performance enhancement. Written report provided.


The Virtual People Assessment – utilizing a brief questionnaire and pictures of you/employees at their desks, feedback and recommendations will be provided regarding areas of greatest opportunity for individual performance enhancement. Written report provided.


The Personal Mechanics Assessment – an individualized hands-on postural assessment of the bio-mechanics required to perform your job. Individual feedback and recommendations will focus on sustainable wellness tactics. Written report provided.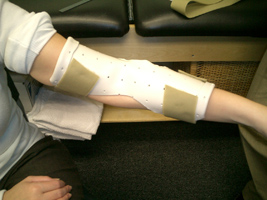 CUSTOM ORTHOTICS AND FITTINGS
Creating custom orthotics for patients for over 20 years, Emily's experience and dedication to making orthotics began at the Bethesda Naval Hospital. Emily provides one-on-one fittings that will ensure to enhance your day to day activities while under treatment and thereafter.


INSURANCE
Jeter Rehab Therapy understands that health and well being does not have to be a financial burden. We are a provider for many insurance companies:
AETNA (most plans)
Cigna
Unicare
WC Carrier Plans


Blue Cross/Blue Shield (most plans)
United Health Care
GEHA
Fiser Health Services

Medicare
HealthLink PPO
HLComp Management
NCPPO